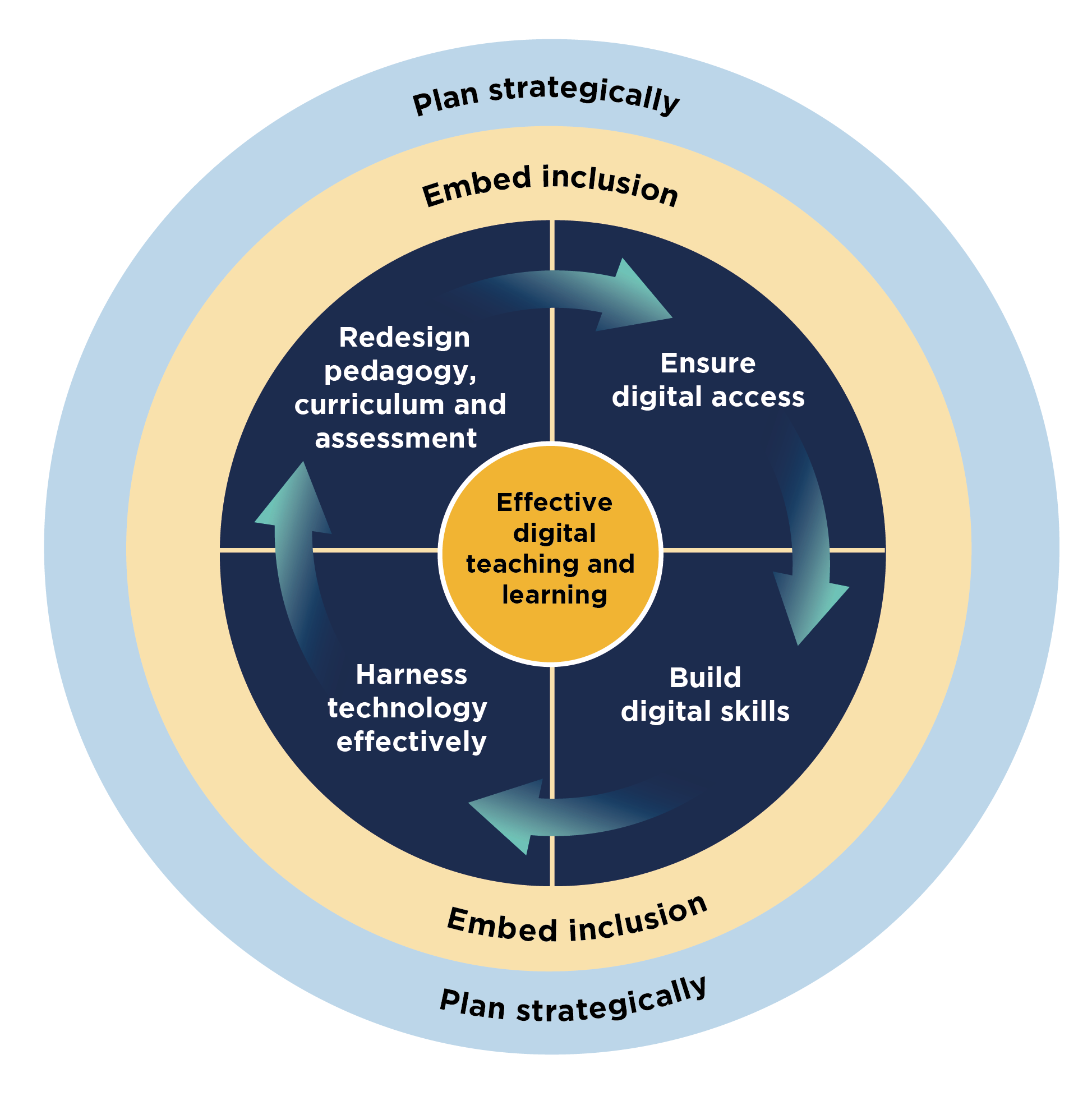 On the 25th of February, The Office for Students released their digital teaching and learning review paper titled Gravity assist: propelling higher education towards a brighter future. The report states that in November 2020, 93% of undergraduates and 89% of postgraduate students received most or all their learning digitally. The scale of change is impressive when you consider that 47% of the academics questioned had no digital teaching experience before the pandemic. Universities have done in weeks what most had planned to do over the next five to ten years.
The sudden move online has effected teaching student satisfaction; 67% of students polled said they were content with their digital teaching, and 61% said it was in line with their expectations. 29% of students said teaching was worse than expected, and 48% said they had not been asked for feedback on teaching by their institution. The lack of satisfaction can be explained by only 21% of teachers saying they were very confident they had the skills to design and deliver digital teaching and learning, and 20% are not confident in their skills for the new teaching methods.
Some of the changes enforced by lockdowns will have a lasting impact on the workplace and the classroom. The report found that 70% of academic staff think digital learning and teaching represent exciting future delivery opportunities. The report suggests five key benefits of online learning: increased flexibility, personalised learning, increased career prospects, pedagogical opportunities, and global opportunities.
The six components of successful digital teaching and learning
The paper provides a model for good digital learning and teaching. The model involves six core components to help universities define quality online and blended learning and then create a plan to achieve it:
Digital teaching must start with appropriately designed pedagogy, curriculum and assessment.
Students must have access to the right digital infrastructure.
Good access enables staff and students to build the digital skills necessary to engage.
Technology can then be harnessed strategically, rather than in a piecemeal or reactive way, to drive educational experience and outcomes.
Inclusion for different student groups must be embedded from the outset.
All the elements need to be underpinned by a consistent strategy.
Recommendations
The lessons identified by the gravity assist paper and the core components generated from them have been condensed into a set of recommendations for high-quality digital learning:
Redesign pedagogy, curriculum and assessment

Design teaching and learning specifically for digital delivery using a 'pedagogy-first' approach.
Co-design digital teaching and learning with students at every point in the design process.
Seize the opportunity to reconsider how assessments align with intended learning outcomes.

Ensure digital access

Proactively assess students' digital access on an individual basis and develop personalised action plans to mitigate any issues identified.
Build learning and procure technology around the digital access actually available to students, not the access they would have in a perfect world

Build digital skills

Communicate clearly to students the digital skills they need for their course, ideally before their course starts.
Create mechanisms that allow students to track their digital skills throughout their course and allow these skills to be recognised and showcased to employers.
Support staff to develop digital skills by incentivising excellence and continuous improvement.

Harness technology effectively

Streamline technology for digital teaching and learning and use it consistently as far as possible.
Involve students and staff in decisions about the digital infrastructure that will be used and how it will be implemented.
Foster a culture of openness to change and encourage calculated risk-taking.

Embed inclusion

Review and evaluate whether provision is inclusive and accessible.
Design inclusively, build a sense of belonging and complement this with tailored support for individual students.
Adapt safeguarding practices for the digital environment

Plan strategically

Ensure a strong student voice informs every aspect of strategic planning.
Embed a commitment to high-quality digital teaching and learning in every part of the organisation.
Proactively reflect on the approach to the digital and physical campuses.
Six actions for 2021-22
Universities are currently planning the 2021/21 academic year, and the paper included a checklist of considerations that align with the recommendations.
Assess students' digital access on a one-to-one basis and address issues before learning is lost
Inform students what digital skills they will need
Involve students in designing teaching and learning
Equip staff with the right skills and resources
Make the digital environment safe for all students
Plan how you will seize the opportunity for the longer-term
The paper is not regulatory guidance, but the clear message is that Universities should be moving to blended learning long-term. Institutions should be reflecting on the progress and challenges of the 2020/21 academic year and use the recommendations to plan out the future direction of their delivery model.
There is a big focus on digital access and skills for students. The access recommendations include assessing students' digital access on an individual basis to put in place mitigations that allow them to continue learning, and design learning around the technology students have available. Simple solutions include:
Stating a courses technology needs for students before they start.
Creating accessible materials.
Considering bandwidth limitations.
Making asynchronous alternatives to live events available to students with limited or unreliable internet.
The six actions do not present anything surprising, but this might represent an acknowledgement of the work that has been done this year by academics and professional services staff to move to online and blended learning. The one notable exception is within action three, to have a mechanism to involve students in learning design beyond the usual feedback opportunities. Each of the action points for co-design involves student feedback, so it is not clear if students should be directly involved in learning design or just an effort to increase the feedback collected and a need for increased responsiveness to it. What is clear is that student feedback needs to far more regular than mid-module and the end of module reviews, and academic will have to be prepared to update their delivery quickly in response.
You can read the full report on the Office for Students website. Let me know on Twitter what you think.